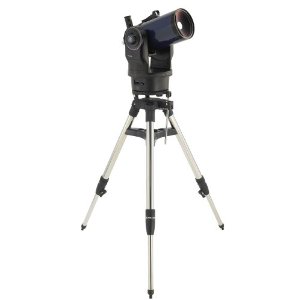 The Meade ETX-AT is an affordable entry-level telescope, yet whilst low on price still includes the features you expect from a quality Meade telescope.
Before we get into the features of the ETX-AT series, let's take a look at the optics. The series consists of two models, the ETX-90AT, a 3.5 inch aperture unit and it's bigger brother, the ETX-125AT, a 5 inch version. Each sports a Maksutov-Cassegrain optical design and have the usual Ultra High Transmission Coasting to increase the performance of the telescope. The ETX-90AT has a focal length of 1250mm and ratio f/13.8 whilst the ETX-125AT specs are 1900mm and f/15 respectively.
The features on the Meade ETX-AT series include the Easy Align feature, as well as Meade's AutoStar controller. The AutoStar allows the user to easily view over 30,000 objects at the push of a button. Just let the AutoStar know the date and time and your location and it can take you on one of several guided tours of the cosmos!
The ETX-AT telescopes also come with a heavy duty aluminum carry case for easy transporting of your equipment. With your telescope you also receive a Meade 884 tripod with chrome plated tubular steel legs, a 26mm Series 4000 1.25" Super Plössl eyepiece (73X) and the AutoStar Suite Astronomer Edition Software and DVD.
As an optional extra, you can connect your ETX-AT to a laptop or desktop computer using the appropriate software and cabling.
The telescope is powered via 8 AA batteries which will normally provide 20 hours of usage.
East Align
Meade AutoStar
Optional Aluminum Hard Carry Case
Ultra High Transmission Coasting
Maksutov-Cassegrain optical design
Meade 26mm Series 4000 1.25" Super Plössl eyepiece (73X)
| | | |
| --- | --- | --- |
| Specifications | ETX-90AT | ETX-125AT |
| Optical Design | Maksutov-Cassegrain | Maksutov-Cassegrain |
| Aperture | 90mm (3.5") | 127mm (5.0") |
| Focal Length Focal Ratio | 1250mm f/13.8 | 1900mm f/15 |
| Software | AutoStar Suite v5.5 | AutoStar Suite v5.5 |
| UHTC | Included | Included |
| Price | $499 | $699 |
No reviews found yet!
Close
Price:

$39.15

Aperture: 50mm(2"). Focal Length: 600mm. Focal Ratio: f/12. Rack-and-Pinion Focuser. Altazimuth moun ....
Read More

Price:

$189.95

Aperture: 130mm(5.1"). Focal Length: 650mm. Focal Ratio: f/5.0. Rack-and-Pinion Focuser, Setting Cir ....
Read More

Price:

$299.95

ETX80 Observer comes with razor sharp optical systems, removable optical tube, computerized GOTO mou ....
Read More

Price:

$648.00

The return of the extremely popular ETX125 takes mobile astronomy to the next level. We know you wer ....
Read More

Price:

$1,799.00

GPS telescope automatically finds over 30,000 stars, planets, galaxies and more! Just turn it on thi ....
Read More

Price:

$1,999.00

The Meade 1645-05-03 LightBridge 16-Inch Truss Tube Dobsonian Telescope is a big telescope that goes ....
Read More

Price:

$19.95

Our #126 2x Short Focus Barlow is our most commonly recommended Barlow lens. It doubles the power of ....
Read More

Price:

$169.00

The LightBridge Mini 130 allows you to set up and share a stargazing experience in seconds. Whether ....
Read More

Price:

$10.95

The Meade 07384 Canon EOS Camera T-Mount attaches your telescope to your Canon EOS camera with the h ....
Read More

Price:

$89.00

Meade all new adventure scope is the perfect scope for the Explorer seeking to observe both day and ....
Read More