Meade ETX-LS Telescope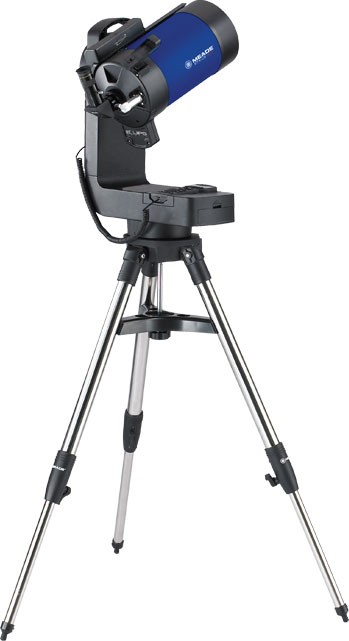 Meade ETX-LS Details
The Meade ETX-LS is a two model range of telescopes featuring Meade's Lightswitch Technology which aligns the telescope at the simple flick of a switch. The Astronomer Inside feature can then take the observer on a multi-media tour of the night sky.
The two models have differing optical design, the cheaper model ($1299) sports a Schmidt-Cassegrain design whilst it's more expensive brother ($1499) shows off Meade's Advanced Coma-Free optics. ACF provides distortion free images for the observer.
Both models also have Autostar III a hand-held controller for the telescope which has a database of over 100,000 celestial objects to choose from. Simply select one of these objects and press the 'GoTo' button and the Autostar controller will align the telescope to the object.
Lightswitch Technology for easy, automatic self-alignment
Meade's Astronomer Inside
Advanced Coma-Free Optics
AutoStar III
OPTICAL SYSTEM
Optical Design
Advanced Coma-Free (ACF) or
Schmidt-Cassegrain (SC)
Primary Mirror Material
Pyrex® Glass
Focal Length, Focal Ratio
1524mm, f/10
Optical Coatings
Ultra-High Transmission Coatings (UHTC™)
Resolving Power (arc seconds)
0.76
Limiting Visual Stellar Magnitude
14
MOUNT
Mount Type
Aluminum Single-Arm Fork Altazimuth
Drives
4.875 inche precision worm-gear
Power
8 "C" cell batteries or AC adapter
Battery Life
3 to 5 hours
Tripod
New Adjustable-height Steel Leg Tripod
ELECTRONICS
Controller Hand Box
AutoStar III
Processor
400 Megahertz Blackfin
Memory
256 Megabytes of NAND Flash
Storage
Micro SD Card (user supplied)
Input/Output
USB 2.0
Speaker
Built in Mount
Connections
USB, AutoStar Hand Box, 12v Power In,
Electric Focuser, Audio Out, Video Out
Meade ETX-LS Telescopes for sale on eBay
No items matching your keywords were found.