Orion Europa 150 Telescope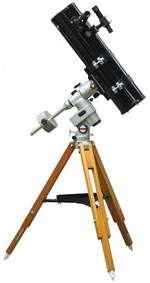 Product Details
The Orion Europa 150 f5 is highly suiable for serious viewing of the night sky. It is sold with the Vixen High Accuracy Dual Axis Drive as an optional extra as well as an option for the Goto computer drive.
Three models are availalbe with differing focal ratios of f5, f8 and f11. All models come with a 25mm Plossl Eyepiece and 30mm Finder.
Places To Buy
Buy the Europa 150 at acecameras.co.uk
Check the Europa's price at Venturescope
Vixen GPE Polaris mount
30mm Finder
Varnished wood tripod
25mm Plossl Eyepiece
Goto computer drive (optional)
Vixen High Accuracy Dual Axis Drive (optional)
Not Available
Orion Europa Telescopes for sale on eBay
No items matching your keywords were found.