Meade LX90GPS Telescope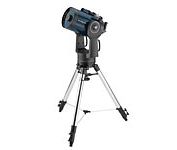 Product Details
The LX90GPS allows the user to go on a tour of the night sky from their very own backyard. As soon as you turn on the GPS tracking system on the telescope it locks on to GPS satellites and determines your precise location. This enables the unit take the user on a grand tour of the night sky.
The LX90GPS also features Meade's AutoAlign facility allowing you to fine tune your telescope with a couple of starts and from there on the LX90GPS knows where to point to show you what you want to see.
The telescope moves across the night sky at a speed of 7 degrees a second, faster than most other telescopes.
It comes with Meade's AutoStar software, a night sky catalogue of over 19 million objects.
Prices
Compare prices for the LX90GPS at shopping.com
More price comparisons for the LX90GPS at epinions.com
AutoAlign
Diffraction-Limited Meade Schmidt-Cassegrain Optics
Oversized Primary Mirror
Slew Speed - 7 degrees per second
Rigid Cast Aluminium Fork Mount
LX200 Series Tripod
Smart Drive
AutoStar Controller
SmartFinder and 8 X 50 Viewfinder
Specifications
8"
10"
12"
Optical Design
Schmidt-Cassegrain
Clear Aperture
203mm
254mm
305mm
Focal Length Focal Ratio
2000mm f/10
2500mm f/10
3048mm f/10
Optical Tube Dimensions
9.1" x 16.75"
11.75" x 22"
13.6" x 25"
Viewfinder
8x50
Batteries (user-supplied)
8 x C-cells
Battery Life (approx.)
60 hrs
60 hrs
60 hrs
Correcting Plate/Lens
clear water white glass
Telescope Weight
33 lbs.
50 lbs.
60 lbs.
Tripod Weight
19 lbs.
19 lbs.
19 lbs.
Price
$1,999
$2,699
$3,299
Meade LX90GPS Telescopes for sale on eBay
No items matching your keywords were found.