Celestron CGE Series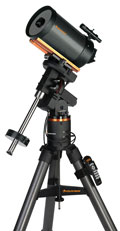 Product Details
The CGE range of telescopes from Celestron is one of their top ranges being described as 'observatory class'. Certainly the specs on these scopes look impressive and they come with the usual GoTo system and Celestron database of over 40,000 celestial objects.
There are four choices within the Schmidt-Cassegrain range, the CGE 800, CGE 925, CGE 1100 and CGE 1400 increasing in aperture and focal length appropriately. Check the 'Specs' section below for further differences in the models.
Celestron make quite a big thing of the portability and stability of the CGE series. The scopes can be broken down into smaller 'easy-to-carry' components and the whole rig can be assembled solo. They claim that the equatorial mount places the centre of gravity over the tripod legs, which is a bit of a redundant claim because if it wasn't the scope would be prone to toppling over. A handy feature is the movable counterweight which allows the user to attach camera equipment to the scope and still achieve a balanced unit.
Schmidt-Cassegrain telescope
German equatorial mount
Carbon Fiber Tube
6x30 finderscope
Carbon steel tripod legs
| | | | | |
| --- | --- | --- | --- | --- |
| | CGE 800 | CGE 925 | CGE 1100 | CGE 1400 |
| Optical Design | Schmidt-Cassegrain | Schmidt-Cassegrain | Schmidt-Cassegrain | Schmidt-Cassegrain |
| Aperture | 203.2 mm | 235 mm | 280 mm | 356 mm |
| Focal Length | 2032 mm | 2350 mm | 2800 mm | 3910 mm |
| Focal Ratio | 10 | 10 | 10 | 10.98 |
| Magnification | 81.28 x | 94 x | 70 x | 97.75 x |
| Mount | Computerized Equatorial | Computerized Equatorial | Computerized Equatorial | Computerized Equatorial |
No Reviews