Meade MAX 20 Telescope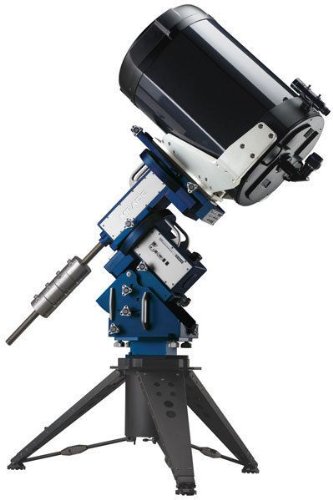 Meade MAX 20 Details
The Meade Max 20 Telescope is aimed at the high-end telescopic market. The scope has a MSRP of $34,999 and this is reflected in the build of not only the optic tube but the incredible robotic German equatorial mount.
The precision built mount features a 16 channel GPS, slew speeds of 0.01x sidereal, multiple tracking rates, including sidereal and lunar plus many customised options.
Whilst the UHTC 20 inch optical tube sports a 4064mm focal length and f/8 focal ratio. It also has Meade's usual Advanced Coma Free design.
Advanced Coma Free design
Quick release dovetail plate on the MAX Mount
Internal Cabling
German Equatorial MAX Mount
| | |
| --- | --- |
| Specifications | MAX 20 |
| Optical Design | Advanced Coma Free |
| Clear Aperture | 20" |
| Resolving Power | .228 arc seconds |
| Focal Length Focal Ratio | 4064mm f/8 |
| Telescope Mounting | MAX Robotic Equatorial Mount |
| Primary Mirror | Pyrex glass, fine-annealed |
| Secondary Mirror | Pyrex glass, fine-annealed |
| Correcting Plate/Lens | Borofloat |
| Total Combined Net Weight | 519 lbs. without counterweights |
| Price | $34,999 |
Purchase the Meade LX800 at Amazon
LX800 10 inch