Orion SkyQuest Classic Dobsonian Series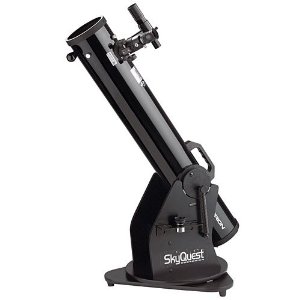 The Orion SkyQuest Classic is a great range of entry level Dobsonian telescopes ideal for a beginner to amateur astronomy. The telescopes are priced between $280 and $580 and the range is made up of four models with differing aperatures, from a 4.5 inch version (XT4.5), through 6 (XT6) and 8 inches (XT8) up to the big boy of the range, the 10 inch aperature XT10 Classic Dobsonian SkyQuest.
Each model comes with a sturdy mount and grip knob for easy maneuvering, all are very portable with the XT10 weighing in at 53.4 lbs fully assembled. The two smaller models come with a 1.25 inch rack and pinion focuser whilst the larger versions, XT8 and XT10, sport a 2 inch Crayford focuser.
Orion have also provided the Beginner Barlow kit as an optional extra for the SkyQuest Classic range. The kit adds on $50 to the base cost and includes observing reference material plus a red LED light to read it with.
Orion SkyQuest Telescope Accessories
NightWatch: A Practical Guide to Viewing the Universe

1.25" Orion 13% Transmission Moon Filter

46"x13.5"x18.5" Orion Padded Telescope Case
Orion SkyQuest Telescope Information
Compact and lightweight for easy transportation
Sturdy Dobsonian Base
Ideal for lunar and plnetary viewing
Specifications
XT4.5
XT6
XT8
XT10
Price
$229.95
$279.95
$329.95
$529.95
User Level
Beginner
Beginner
Intermediate
Intermediate
Optical Design
Reflector
Optical diameter
114mm
150mm
203mm
254mm
Focal length
900mm
1200mm
1200mm
1200mm
Focal ratio
f/7.9
f/8.0
f/5.9
f/4.7
Optics Type
Spherical
Parabolic
Parabolic
Parabolic
Glass material
Soda-lime plate
Soda-lime plate
Soda-lime plate
BK-7
Eyepieces
Sirius Plossl 25.0mm, 10.0mm
Sirius Plossl 25.0mm (1.25")
Sirius Plossl 25.0mm (1.25")
Sirius Plossl 25.0mm (1.25")
Magnification with included eyepieces
36x, 91x
48x
48x
48x
Resolving Power
1.02arc*sec
0.77arc*sec
0.57arc*sec
0.46arc*sec
Highest useful magnification
228x
300x
300x
300x
Limiting stellar magnitude
12.9
13.5
14.2
14.7
Optical quality
Diffraction limited
Finder scope
6x26 Correct-image
EZ Finder II
EZ Finder II
EZ Finder II
Focuser
1.25 inch rack-and-pinion
2 inch Crayford
Mirror coatings
Aluminum & Silicon Dioxide
Bearing material
Teflon and UHMW bearings
Tube material
Steel
Tripod material
Wood
Length of optical tube
35.0 inch
45.5 inch
46.5 inch
47.8 inch
Weight, fully assembled
17.6 lbs
34.4 lbs
41.0 lbs
53.4 lbs
Warranty
One year