Meade ETX Premier Edition Telescopes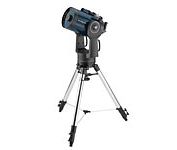 Product Details
Meade have released two telescopes in the ETX premier Edition range, namely the ETX-90PE and ETX-125PE. The main difference between the two models is the aperture, 90mm for the 90PE and 127mm for the 125PE. Each model comes with either a blue tube or an 'astro' tube although this does not affect the price.
Whilst being an entry level range the ETX premier still sport some of the features of its bigger and more expensive brothers. These telescopes sport the AutoStar feature, which alows the user to simply push a button to observe a selected object once the telescope has been properly aligned.
The telescope is aligned with the use of the SmartFinder feature which uses known start positions and the user's location to adjust the telescope to allow the AutoStar feature to be used.
Prices
Compare prices for the ETX Premier Editon epinions
More price comparisons for the ETX range at shopping.com
AutoAlign
Electronic Level Sensor
Electronic Magnetic North Sensor
High Precision Internal Clock
AutoStar Controller
SmartFinder
Specifications
ETX-90PE
ETX-125PE
Optical Design
Maksutov-Cassegrain
Aperture
90mm
127mm
Focal Ratio
f/13.8
f/15
Focal Length
1250mm
1900mm
Price
$699
$999