Meade LX80 Series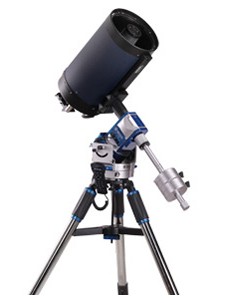 LX80 Details
There are five telescopes within the LX80 range from Meade, three Schmidt-Cassegrain and two Apochromatic Refractors. The Schmidt-Cassegrain reflectors come in three apertures, namely 6, 8 and 10 inches, whilst the refractors sport an 80mm and 115mm aperture respectively.
All the telescopes in the LX80 range come with the LX-80 Multi-Mount, AudioStar controller and a 26mm Series 4000 Super Plossl eyepiece.
The Meade LX80 Series offers the intermediate amateur astronomer a telescope system of outstanding quality and performance.
Meade's legendary Schmidt-Cassegrain Optical System
Series 6000 ED Triplet APO Refractors
Coronado SolarMax II
LX80 Multi-mount
LX80 Tripod
Specifications
6" SC
8" SC
10" SC
80mm ED APO
115mm ED APO
Optical Design
Schmidt-Cassegrain
Apochromatic Refractor
Clear Aperture
6"
8"
10"
80mm
115mm
Focal Length Focal Ratio
1524mm f/10
2034mm f/10
2540mm f/10
480mm f/6
805mm f/7
Telescope Mounting
LX80 Multi-Mount
Optical Coatings
Ultra-High Transmission Coatings (UHTC)
Fully Multi-Coated
Resolving Power
0.760 arcseconds
0.570 arcseconds
0.456 arcseconds
1.45 arcseconds
1.01 arcseconds
AutoStar Controller
AudioStar
Viewfinder
8x50mm with cross-hair reticle
None
8x50mm with cross-hair reticle
Eyepiece
26mm Series 4000 Super Plossl
Primary and Secondary Mirror
Low-expansion borosilicate glass
N/A
Correcting Plate/Lens
Aspheric high-spectral transmission Borofloat glass from Schott AG Germany
FPL53 extra-low dispersion glass
Optical Tube
Aluminum
OTA Weight
13 lbs.
14.1 lbs.
29.5 lbs.
7.2 lbs.
17.5 lbs.
Price
$1,199
$1,499
$1,999
$1,799
$2,799
No reviews available for the Meade LX80
Purchase the Meade LX800 at Amazon
LX80 6 inch
LX80 8 inch
LX80 10 inch
LX80 80mm