Orion AstroView Telescope Range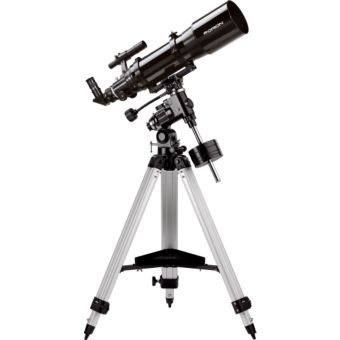 The Orion AstroView range of telescopes are aimed at both the novice and intermediate amateur astronomer alike. From the entry-level 90mm Equatorial Refractor through to the 120ST ideal for astrophotography there's a telescope to suit everyone's experience and wallet.
The AstroView range consist of three refractors, namely the 90, 100 and 120ST, plus a single reflector, the AstroView 6. The refractors come in three optical sizes, 90mm, 100mm and 120mm, with the refractor boasting a 150mm optical diameter. All the telescopes come with an equatorial mount for easy tracking of the night sky.
Whilst the smaller 90mm and 100mm refractors are ideal for lunar and planetary observing, the 120ST and AstroView 6 are great for observing the brighter deep sky objects. All the telescopes come with two eyepieces, a 10mm and 25mm Sirius Plossl, focussing is operated by a rack-and-pinion system and each has a 6x30 finder scope. Plus each telescope comes with a copy of the Starry Night astronomy software.
Orion AstroView Telescope Accessories
Orion AstroView TableTop Telescope Information
Great telescopes for both the beginner and intermediate astronomer
Equatorial mount and slow motion controls for easy tracking of nightsky objects
Includes two 1.25" telescope eyepieces
Starry Night software
| | | | | |
| --- | --- | --- | --- | --- |
| Specifications | 90mm Refractor | 100mm Refractor | 120ST Refractor | AstroView 6 Reflector |
| Price | $329.95 | $449.95 | $549.95 | $429.95 |
| Best Viewing | Lunar & planetary | Lunar & planetary | Brighter deep sky | Brighter deep sky |
| Best Imaging | Lunar & planetary | Deep Sky | Deep Sky | Lunar & planetary |
| Optical Design | Refractor | Refractor | Refractor | Reflector |
| Finder scope mag | 6x | 6x | 6x | 6x |
| Optical diameter | 90mm | 100mm | 120mm | 150mm |
| Focal length | 910mm | 600mm | 600mm | 750mm |
| Focal ratio | f/10.1 | f/6.0 | f/5.0 | f/5.0 |
| Optics Type | Air-spaced doublet | Air-spaced doublet | Air-spaced doublet | Parabolic |
| Glass material | Crown/Flint | Crown/Flint | Crown/Flint | Soda-lime plate |
| Eyepieces | Sirius Plossl 25.0mm, 10.0mm | Sirius Plossl 25.0mm, 10.0mm | Sirius Plossl 25.0mm, 10.0mm | Sirius Plossl 25.0mm, 10.0mm |
| Magnification with included eyepieces | 36x, 91x | 24x, 60x | 24x, 60x | 30x, 75x |
| Resolving Power | 1.29arc*sec | 1.16arc*sec | 0.97arc*sec | 0.77arc*sec |
| Highest useful magnification | 180x | 200x | 240x | 300x |
| Limiting stellar magnitude | 12.5 | 12.7 | 13.1 | 13.6 |
| Finder scope | 6x30 | 6x30 | 6x30 | 6x30 |
| Focuser | 1.25 inch rack and pinion | 2 inch rack and pinion | 2 inch rack and pinion | 1.25 inch rack and pinion |
| Mirror coatings | | | | Aluminum & Silicon Dioxide |
| Mount Type | Equatorial | Equatorial | Equatorial | Equatorial |
| Astro-imaging capability | Lunar & planetary | Lunar & planetary | Lunar & planetary | Lunar & planetary |
| Latitude range | 16-72 | 18-63 | 18-63 | 18-63 |
| Tube material | Aluminium | Aluminium | Aluminium | Steel |
| Tripod material | Aluminium | Aluminium | Aluminium | Aluminium |
| Length of optical tube | 35.5 inch | 24.5 inch | 24.5 inch | 26.5 inch |
| Weight, fully assembled | 23.7 lbs | 29.0 lbs | 36.3 lbs | 37.1 lbs |
| Warranty | One year | One year | One year | One year |
Customer reviews of the 90mm AstroView at Amazon
User review of the 100mm AstroView
Another user review of the 100mm model at Astromart
A full user review of the 120ST at tripod.com