Meade LX800 Telescope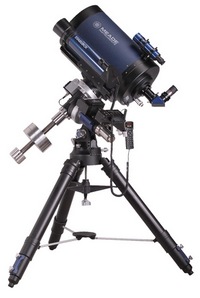 LX800 Series Details
The Meade LX800 range comprises of four telescopes, three reflector and one refractor. The reflectors come in three apertures, 10, 12 and 14 inches with the refractor sporting a 130mm aperture.
The reflectors all sport Meade's Advanced Coma-Free optics and all models come with a precision machined German Equatorial mount.
The mount conveniently comes with internal channeling for cables to prevent the cables catching on the mount as the telescope tracks.
Possibly the most important feature on the LX800 series of telescopes from Meade is the StarLock technology which enables automatic targeting and guiding during imaging. With Meade's LightSwitch technology, StarLock uses two cameras to find and track your object down to an amazing 0.01 arcsecond precision.
The Meade LX800 Series offers the high-end amateur astronomer and astrophotographer a telescope system of amazing performance.
Fast f/8 Advanced Coma-Free (ACF) optical systems (reflectors)
130mm 3-element, air-spaced apochromatic f/7 refractor
StarLock full-time automatic integrated guider
German Equatorial Mount
Internal Crayford-style primary mirror focusing system
Internal cabling
Specifications
10"
12"
14"
130mm
Optical Design
Advanced Coma Free
Advanced Coma Free
Advanced Coma Free
Apochromatic Refractor
Clear Aperture
10" (254mm)
12" (305mm)
14" (356mm)
130mm
Focal Length Focal Ratio
2032mm f/8
3048mm f/8
3556mm f/8
910mm f/7
Telescope Mounting
Heavy-duty German Equatorial
Eyepiece
HD-60 25mm, long eye relief, premium eyepiece
Viewfinder
8x50mm with cross-hair reticle
Primary Mirror
Low-expansion borosilicate glass
N/A
Secondary Mirror
Individually figured with primary mirror for maximum correction. Low-expansion borosilicate glass
N/A
Correcting Plate/Lens
Aspheric high-spectral transmission Borofloat glass from Schott AG Germany
N/A
Total Net Telescope Weight
33 lbs.
TBD
TBD
25 lbs.
Telescope Shipping Weight
44 lbs.
TBD
TBD
40 lbs.
Price
$7,999
$8,999
$9,999
$8,999
No reviews available for the Meade LX800
Purchase the Meade LX800 at Amazon
LX800 10 inch
LX800 12 inch
LX800 14 inch
LX800 130mm