Orion SpaceProbe Series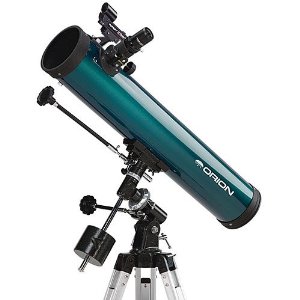 The Orion SpaceProbe range of reflector telescopes make a great starting point for beginning your amateur astronomy hobby. These easy to use scopes are great for all the family and represent great value for money. There are four models in the SpaceProbe range with the 3 inch reflector coming with either an altazimuth or equatorial mount and the 130 EQ ans 130 ST rounding out the series.
The smaller models come with a great lightweight mount, ideal for observing sessions away from home, whilst the 130 models have the strong EQ-2 mount and tripod which come with an optional electronic drive for tracking those deep-sky objects.
All the models have soda-lime plate glass and Explorer II 10 and 25mm eyepieces apart from the 130ST which comes with 10mm and 25mm Plossl eyepieces. The 130EQ and 130ST models will allow magnification of up to 260x.
The Orion SpaceProbe range of telescopes represent a great way to start your hobby and even greater value for money.
Orion SpaceProbe Telescope Accessories
Orion SpaceProbe Telescope Information
Affordable and Simple
Reflector Design
Lightweight Aluminum Tripod
Ideal for lunar and plnetary viewing
Specifications
3 Altazimuth
3 Equatorial
130 EQ
130 ST
Price
$99.95
$149.95
$249.95
$299.95
User Level
Beginner
Beginner
Beginner
Beginner
Best Viewing
Lunar & planetary
Lunar & planetary
Brighter deep sky
Brighter deep sky
Best Imaging
Lunar & planetary
Lunar & planetary
Lunar & planetary
Lunar & planetary
Optical Design
Reflector
Optical diameter
76mm
76mm
130mm
130mm
Focal length
700mm
700mm
900mm
650mm
Focal ratio
f/9.2
f/9.2
f/6.9
f/5.0
Optics Type
Spherical
Spherical
Spherical
Parabolic
Glass material
Soda-lime plate
Eyepieces
Explorer II 25.0mm, 10.0mm
Plossl 25.0mm, 10.0mm
Magnification with included eyepieces
28x, 70x
36x, 90x
26x, 65x
Resolving Power
1.52arc*sec
0.89arc*sec
Highest useful magnification
95x
152x
260x
260x
Limiting stellar magnitude
12.1
13.2
Optical quality
Diffraction limited
Finder scope
EZ Finder II
6x30
Focuser
1.25 inch rack-and-pinion
Mirror coatings
Aluminum & Silicon Dioxide
Mount Type
Altazimuth
Equatorial
Motor drive compatibility
None
Clock drive sold separately
Tube material
Steel
Aluminum
Tripod material
Aluminum
Length of optical tube
27.0 inch
27.0 inch
32.5 inch
24.0 inch
Weight, fully assembled
8.4 lbs
16.6 lbs
26.5 lbs
23.0 lbs
Warranty
One year