Orion SkyView Pro 8 Reflector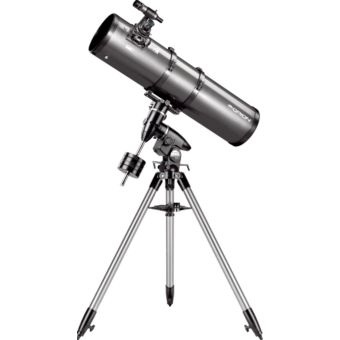 The Orion SkyView Pro 8 reflector telescope is great for the intermediate astronomer. The 8 inch aperature gathers enough light to allow viewing of deep space objects like distanct galaxies and star clusters. Of course closer objects in our solar system will still make for great viewing with the SkyView Pro 8 too.
The telescope comes with an equatorial mount to allow easy tracking of celestial objects, and the slow-motion control knobs make the tracking smooth.
To round off the package, the Orion SkyView Pro 8 reflector is supplied with two 1.25 inch Plossl eyepieces, a finder scope and Starry Night software. All you need to take the next step in astronomy.
As an optional extra you can add Orion's GoTo system to your SkyView Pro 8. The GoTo system consists of a hand controller and two motors to attach to the equatorial mount of the Pro 8. The GoTo system will allow you to track any of the 13,400 plus night sky objects stored in its database as well as take you on a guided tour of the current night sky.
Orion SkyView Telescope Accessories
Orion SkyView Pro 8 Telescope Information
Versatile refracting telescope
120mm (4.7") aperture and 1000mm focal length
2" aluminum rack-and-pinion focuser
Sturdy SkyView Pro equatorial telescope mount
| | | |
| --- | --- | --- |
| Specifications | SkyView Pro 8 | SkyView Pro 8 with GoTo |
| Price | $649.95 | $1,124.95 |
| User Level | Intermediate | Advanced |
| Best Viewing | Brighter deep sky | Brighter deep sky |
| Best Imaging | Deep Sky | Lunar & planetary |
| Optical Design | Reflector | Reflector |
| Optical diameter | 203mm | 203mm |
| Focal length | 1000mm | 1000mm |
| Focal ratio | f/4.9 | f/4.9 |
| Optics Type | Parabolic | Parabolic |
| Glass material | Soda-lime plate | Soda-lime plate |
| Eyepieces | Sirius Plossl 25.0mm, 10.0mm | Sirius Plossl 25.0mm, 10.0mm |
| Magnification with included eyepieces | 40x, 100x | 40x, 100x |
| Resolving Power | 0.57arc*sec | 0.57arc*sec |
| Highest useful magnification | 300x | 300x |
| Limiting stellar magnitude | 14.2 | 14.2 |
| Optical quality | Diffraction limited | Diffraction limited |
| Finder scope | 8x40 | 8x40 |
| Focuser | 2 inch Crayford | 2 inch Crayford |
| Mirror coatings | Aluminum & Silicon Dioxide | Aluminum & Silicon Dioxide |
| Mount Type | Equatorial | Equatorial |
| Motor drive compatibility | Clock drive sold separately | |
| Computerized Compatibility | Intelliscope system or Go-To system | Go-To included |
| Alignment procedure | | 3-Star Alignment, 2-Star Alignment, 1-Star Alignment |
| Motor Speeds | | 3.4�/sec, 600x, 500x, 400x, 64x, 32x, 16x, 8x, 2x, 1.75x, 1.5x, 1.25x |
| Tube material | Steel | Steel |
| Tripod material | Steel | Steel |
| Length of optical tube | 38.0 inch | 38.0 inch |
| Weight, fully assembled | 56.5 lbs | 56.5 lbs |
| Warranty | One year | One year |
Amazon - customer reviews of the standard SkyView Pro 8
Astromart - An article from 2004 on the Orion SkyView Pro 8 EQ telescope
A long but thorough user review of the Orion SkyView Pro 8 at Excelsis